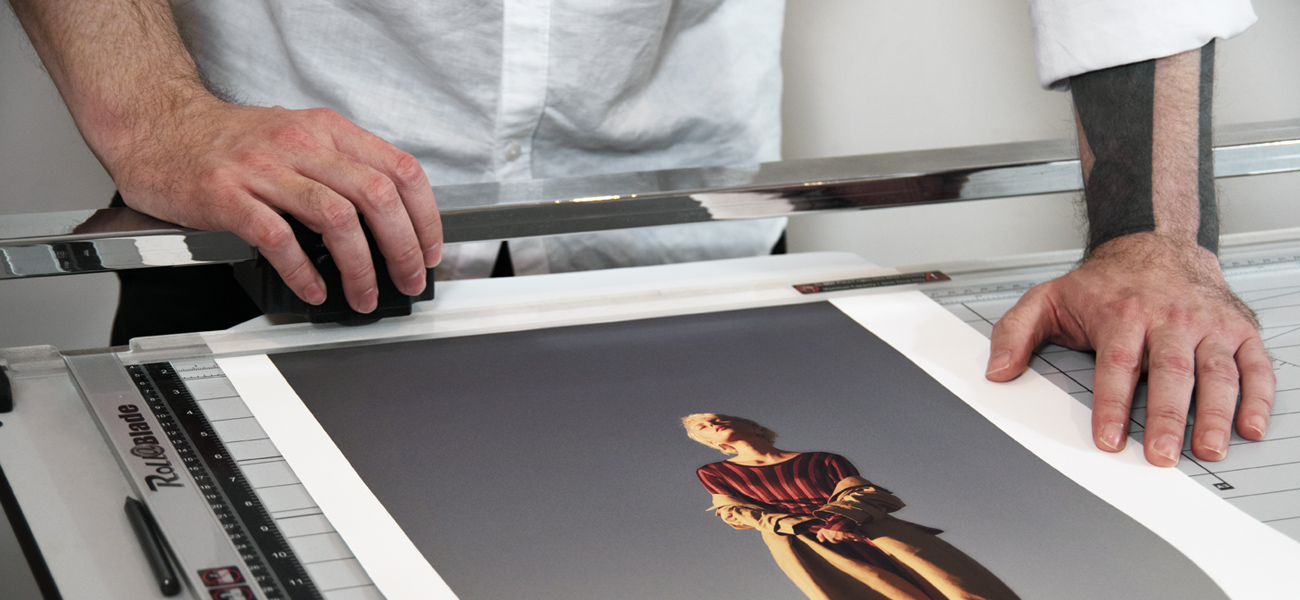 Giclée Printing and Photographic Printing services
Specialising in exhibitions and prints for sale, we print on archival acid-free papers, with a range of Fine Art Cotton, premium photo papers, canvas, Metallics and wallpapers.
Using the latest Epson technology for a superior colour gamut output, we can print on museum grade fine art papers up to 162x305cm (64x120in).
Our role as a printer is to listen to our clients first and foremost. We collaborate with the artists and photographers in preparing their files for print and we strive to achieve their vision, whether it is for an exhibition, for limited edition prints for sale, or to decorate a space. We aim to achieve the best possible results for an excellent print.
A normal turnaround time is 1 to 2 days for a print but, we can achieve quicker turnarounds for emergency work. Call us for a free consultation over a coffee.
Our wide range of papers vary in characteristics, such as texture, surface, weight and white point. All our papers and inks are archival acid-free, ensuring longevity.
Our Fine Art and Prestige range of papers include brands like Canson, Hahnemuhle, MOAB Entrada and Ilford.
| Size in centimetres | Size in inches | Prestige & Gallery Cotton Papers | Canson & Hahnemuhle Fine art paper | Premium Photo Paper | Canvas & Wallpaper |
| --- | --- | --- | --- | --- | --- |
| 20x30cm | 8x12in | $20 | $25 | $15 | $45 |
| 28x42cm | 11x16in | $30 | $35 | $25 | $60 |
| 30x45cm | 12x18in | $45 | $50 | $30 | $70 |
| 40x60cm | 16x24in | $60 | $70 | $40 | $90 |
| 50x75cm | 20x30in | $75 | $80 | $50 | $100 |
| 60x90cm | 24x36in | $90 | $105 | $60 | $120 |
| 70x105cm | 28x42in | $120 | $135 | $80 | $135 |
| 80x120cm | 32x48in | $150 | $185 | $110 | $150 |
| 90x135cm | 36x54in | $190 | $220 | $135 | $200 |
| 100x150cm | 40x60in | $240 | $280 | $170 | $250 |
| 110x165cm | 44x66in | $290 | $310 | $200 | $270 |
| 120x120cm | 47x47in | – | $350 | $300 | $300 |
| 120x180cm | 47x71in | – | $400 | $350 | $350 |
| 152x152cm | 60x60in | – | $450 | $400 | $450** |
| 162x162cm | 64x64in | – | $500* | – | – |
| 152x228cm | 60x90in | – | $750 | $550 | $600** |
| 162x244cm | 64x96in | – | $850* | – | – |
| 162x305cm | 64x120in | – | $930* | – | – |
*Hahnemuhle Photo Rag Ultra Smooth 305gsm only
**Final size includes border for stretching