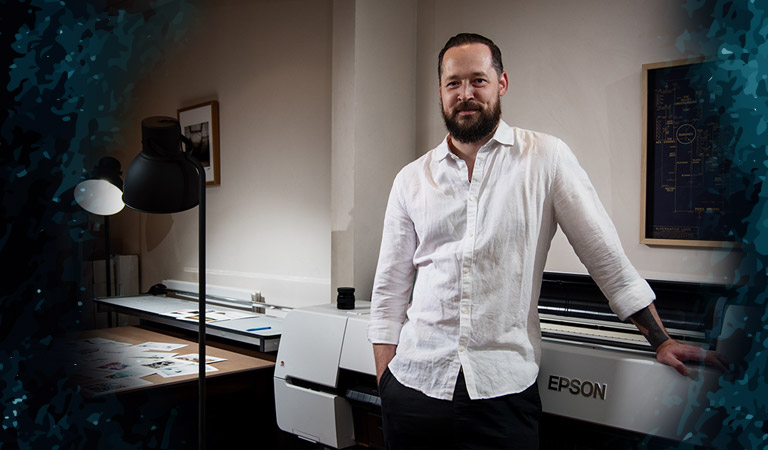 With over 20 years of experience in fine art printing, digital imaging, retouching and photography in the UK and Australia, Fine Art Printing by Tom offers Digital Artists and Photographers world leading technologies in scanning, retouching and giclée printing. We collaborate closely with our clients ensuring the best potential results for their projects. With Fine Art Printing by Tom you can print on a wide range of archival acid-free papers and canvas up to 162cm on the short side. Based in Sydney, we print for the world.
Thomas took my business to a whole new level in quality and attention to detail. Working with fine art prints and highly detailed artwork files, not only does Thomas get the perfect look I require in my art form by selecting the perfect fine art grade archival papers to compliment each work, he also takes my images to a whole new level with retouching and colour management. The end result is the smoothest creamy tones with the softest grain, vibrant colours and true rich blacks. Thomas goes above and beyond. I trust him completely with my work, my files, and the perfection and attention to the utmost quality at the final output. And he is amazing to work with every time including communication, his nature and his eye for style and knowing what I want.
My business philosophy is simple: to always surround yourself with the best of the best and Thomas is that guy. The quality of his printing service is second to none. The fine art stock is of the highest quality and the beautiful colours truly pop. Rumour on the black colour circuit is that Thomas takes regular trips to space to visit the black hole to grab numerous samples. I do not like writing reviews, but for Thomas I am happy to do so, as he is not only a spaceman but also a wizard. Truly a printing magic man. Thomas partners with you, the artist, and puts your needs above all and I cannot recommend Fine Art Printing by Tom enough. In conclusion if you want a printing genius who is also a spaceman, wizard and all round good guy then the decision is a no brainer: you partner with Fine Art Printing by Tom, otherwise you're just a muppet.
I've recently used 'Fine Art Printing by Tom' and have been very impressed by the results. He has provided me with a full service from the scanning of my original artwork, through to colour correction, print tests and the final large production prints. The art reproductions were of an exceptional quality, the whole process was seamless and I without a doubt will be using his services again.